Upcoming Events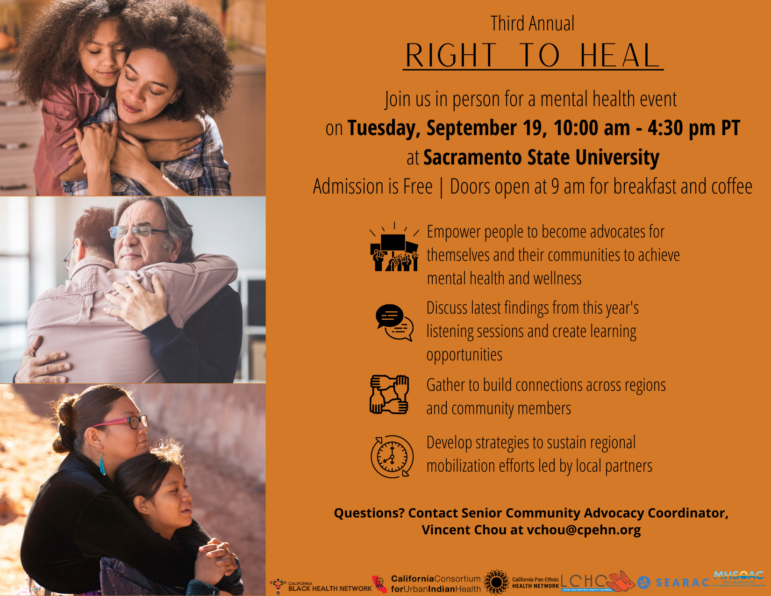 Right to Heal: Centering Mental Health Multi-Racial Equity in California
Digital Agenda:
Right to Heal Podcast
Check out our podcast here!
---
The Right to Heal: Centering Mental Health Multi-Racial Equity in California is back for a third year! Join us as we gather community members from Black, Indigenous, and communities of color to talk about mental health and wellness. 
We gather to build connections across regions and community members, develop strategies to sustain regional mobilization efforts led by local partners, discuss the latest findings from this year's listening sessions, create learning opportunities, and empower people to become advocates for themselves and their communities to achieve mental health and wellness.
This event is hosted by the California Pan-Ethnic Health Network, Latino Coalition for a Healthy California, California Consortium for Urban Indian Health, Southeast Asia Resource Action Center, the California Black Health Network, and the Mental Health Services Oversight and Accountability Commission.
Register Here:
Event Details:
Date: Tuesday, September 19th, 2023
Time: 10:00am to 4:30pm Pacific Time (doors will be open for breakfast and coffee at 9AM)
Location: CSU Sacramento University Ballroom, 6000 J St, Sacramento, CA 95819 (in-person)
Cost: Free
Please register by Wednesday, September 6th by 5pm.
Materials:
Accessibility:
CPEHN has an ongoing commitment to disability justice and accessibility. Please contact Aviva Prager at aprager [at] cpehn [dot] org or (510) 832-1160 ext. 308 to request any accessibility needs not included in the registration process at least 2-3 weeks in advance of the conference.

Advance notice is necessary to arrange for some accessibility needs. Please share requests for interpretation, captioning, and other accessibility needs.
If you have any event questions, please contact: Vincent Chou at vchou [at] cpehn [dot] org.
CPEHN recognizes that COVID-19 is still circulating and therefore we have the below precautions and policies in place for our events:

Masks are required indoors regardless of vaccination status
CPEHN requires all attendees to have received at least two doses of any COVID-19 vaccine and will check vaccine verification at the door.
CPEHN will not collect or store any medical information
At the door, attendees must show

Proof of Vaccination (original, copy (digital or physical), picture of vaccine record from the CDC, healthcare provider, or government agency
Valid Photo ID (driver's license, state-issued ID card, school ID card, passport, and other identification that includes photo and full name)

Medical Exemptions:

If a person believes they have a valid medical exemption, they must contact Rachel Katz at rkatz@cpehn.org one week in advance of the event otherwise they will not be admitted. Medical exemptions require a COVID-19 test at the door. Rapid tests will be provided. Those who believe they have a medical exemption must provide written certification by a licensed treating medical professional confirming one of the following:

Cannot receive any COVID-19 vaccine due to contraindications recognized by the CDC or FDA
Has medical or physical condition that prevents them from receiving any COVID-19 vaccine

Important Notice Regarding COVID-19:

Please note any interaction with the general public poses an elevated risk of being exposed to COVID-19 and we cannot guarantee that you will not be exposed while in attendance at the event. CPEHN is not responsible for the health and safety of this event. We encourage you to follow the organizer's safety policies, as well as local laws and restrictions.

COVID-19 event protocols are subject to change.
Sponsorships
Interested in sponsoring the Right to Heal? View the sponsorship tiers here. Email conference@cpehn.org.
Thank you to our generous sponsors!
Advocate
California Health Care Foundation
Ally
Language World
Past Events
The California Pan-Ethnic Health Network's biennial Voices for Change Conference is happening Thursday, June 22, 2023 in Los Angeles.

Our conference is returning in-person this year! COVID-19 event policies and procedures will be in place.

Every two years we bring together policymakers, elected officials, non-profits, and community organizations to share their thoughts and expertise on a wide variety of health equity policy areas.

View speaker directory here.

Thank you to our sponsors for their generous support!

Remarks from our 30th Anniversary Sponsor – Blue Shield of California


30th Anniversary Sponsors

Blue Shield Promise is an independent licensee of the Blue Shield Association

Health Equity Champion

Health Justice Leader

Delta Dental

Kaiser Permanente

Advocate

Aurrera Health

Blue Shield of California Foundation

The California Wellness Foundation

Health Net

Inland Empire Health Plan

Kern Family Health Care

LA Care

Lucile Packard Foundation for Children's Health

Manifest MedEx

Molina Healthcare of California

Sellers Dorsey

Transform Health

Vision y Compromiso

Equity and Justice Supporter

BluePath Health

California Association of Local Behavioral Health Boards & Commissions

California Community Foundation

The California Quality Collaborative

Connecting for Better Health

First 5 LA

Justice in Aging

NextGen Policy

Perry Communications Group

Planned Parenthood Advocacy Project Los Angeles

Community Health Allies

Alternative Technologies

Community Partner

California Black Health Network

California Black Women's Health Project

The CARESTAR Foundation

The Children's Partnership

Disability Rights California

Everyday Impact Consulting

Health Access

National Health Law Program

Sarah de Guia